This beef stew recipe is a classic meat and potato dish, a stick to your ribs dish that hits the spot on a cool day (or almost any day). Check out the recipe video and let Chef Buck show you how easy it is to make this hearty dish.
This will make you feel like a manly man if you're a man, and if you're a woman, you'll likely take ownership of your own feelings and not need a bowl of food to direct your inner emotional understanding.
Beef Stew Recipe Ingredients:
1 1/2 lbs STEW BEEF
1/4 cup ALL-PURPOSE FLOUR
1 GREEN BELL PEPPER (chopped)
1 15oz can DICED TOMATOES
2 lg CARROTS (chopped)
2 POTATOES (chopped)
1 lg ONION (sliced)
3-4 cloves GARLIC (sliced)
1 14oz can BROTH (chicken or beef)
CELERY? whatever
3 Tbsp OLIVE OIL
1 Tbsp CORIANDER
1 tsp CUMIN
1 BAY LEAF
(0ptional) 1 tsp CHILI POWDER
1 Tbsp BUTTER
SALT and PEPPER, to taste
Chop up your veggies, dude.
In a bowl, season your stew beef with salt and pepper. Add 1/4 cup flour and toss the meat until coated.
In a large pot, heat oil on medium high heat and add beef. Sear beef and turn to cook each side. Remove beef from pot and add onions and butter. Melt butter and then add garlic and bell pepper. Saute onions, garlic, and pepper 8-10 minutes. Add cumin and coriander (add chili powder if desired, or mustard powder, cayene pepper, etc.--I tend to go light on the seasonings for a simple flavor). Return meat to the pot and add 1 can of diced tomatoes. Simmer for 5 minutes and then add 1 can of broth (chicken or beef or veg--whatever's handy and floats your boat). Add carrots, celery, and a bay leaf. Cover and bring to a boil, then reduce heat and simmer for 30 minutes.
After 30 minutes, add potatoes. Your potatoes should be cut into big, ping-pong-ball sizes so they don't cook down to nothing. Add water as needed, just enough to cover your ingredients in the pot--don't add too much water--we want a nice, thick stew when we're done.
Cover, and continue to simmer for another 45-50 minutes.
Give it a taste and adjust seasoning as needed.
Serve it with a thick slice of buttered bread and enjoy being the King or Queen of the castle.
And that's it, man. Give this hearty beef stew recipe a try and let me know what you think, and bon appetit!
And for another hearty stew, try this Spanish classic:
Spicy Chorizo Sausage Stew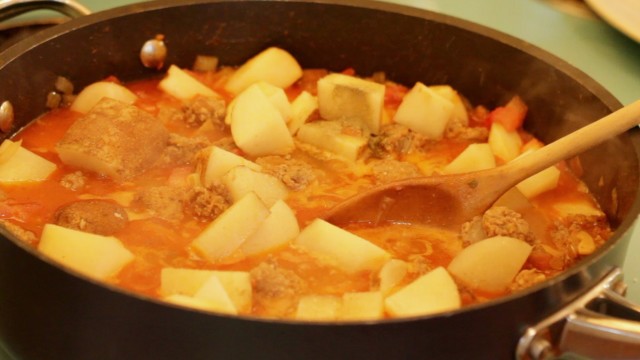 Spicey Chorizo Sausage and Potato Stew