A BBQ Bean Recipe with a spicy kick. This recipe is tangy and delicious and using a variety of beans gives this dish the illusion of grandeur, but it's just beans, yummy tasty beans.
BBQ Beans Recipe Ingredients:
4 15oz cans BEANS
1 large ONION (coarsely chopped)
1 GREEN PEPPER (coarsely chopped)
4 cloves of GARLIC (chopped)
1/3 cup light BROWN SUGAR
28oz can CRUSHED TOMATOES
14oz can BROTH
1/3 cup APPLE CIDER VINEGAR
1 Tbsp fresh ROSEMARY (minced)
1 tsp WORCESTERSHIRE SAUCE
1/2 tsp RED PEPPER FLAKES
1 1/2 tsp dried THYME
1/4 cup stone ground MUSTARD
1 Tbsp SOY SAUCE
1 BAY LEAF
3 Tbsp OLIVE OIL
SALT & PEPPER, to taste
Heat olive oil in large skillet over medium high heat. Add onion, green pepper and sauté about 2 minutes. Add garlic and continue sautéing on med heat until begins to brown (3-5 more minutes).
Add rosemary, thyme and red pepper flakes and stir 1 minute.
Add tomatoes, prepared mustard, brown sugar, soy sauce, worcestershire sauce, stock, vinegar. Mix well. Bring to a bubble.
Stir in beans, bay leaf. Season with salt and pepper. Reduce heat and simmer on low for 60 minutes, stirring as needed.
Serve as a side--or a main dish--if you want your main dish to be beans.
And that's it. Give this BBQ Beans recipe a try and let me know what you think, and bon appetit!
Wanna try another bean recipe? This
Vegetarian Chili Recipe
is awesome!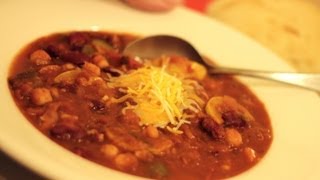 Bean Fun Facts:
-6 to 11 percent of a cooked bean's weight is protein.
-Beans are one of the best things to eat for improving the stability of blood sugar levels in diabetics.
-Beans are low fat, contain no cholesterol or saturated fat, and are an excellent source of fiber, protein, calcium, iron,
folic acid and potassium.
-North Dakota produces more beans than any other state in the USA.