This Chinese eggplant recipe is awesome because it's purple--not purple like a black eye--but purple like Barney the Dinosaur, which is nice.
Choose eggplants that are firm and have a glossy skin. The skin is thin and tasty, and Chinese eggplants have smaller seeds than the black, bowling ball eggplant you might be used to preparing. They're a great ingredient for a stir-fry and can stand in for meat without being as awful as tofu. So give 'em a try.
Ingredients:
3 small CHINESE EGGPLANTS
3-4 Tbsp OLIVE OIL
5 cloves GARLIC (finely chopped)
1 inch GINGER (thinly sliced)
2 tsp MUSTARD SEEDS
1 Tbsp ground CORIANDER
1 bunch GREEN ONIONS (chopped)
1 JALEPENO or other hot pepper (sliced)
SALT to taste
-- optional garnishes --
SOY SAUCE or CHILI GARLIC SAUCE
Heat olive oil on medium high heat. When oil is hot, add garlic and ginger. Add mustard seeds and coriander powder and sauté 2 minutes. Add chopped green onion bottoms and reserve the chopped green onion tops for later. Add hot pepper and continue sautéing for a couple minutes. Add sliced eggplant (with skin). Choose eggplants that are firm, glossy skinned, and heavy for their size. Slice into rounds no more than 1/4 inch thick. Add salt and stir eggplant. Stir for a few minutes. Add water as needed, but not too much, the eggplant will release water as it cooks. Reduce heat, cover and cook 10-12 minutes, stiring as needed. The eggplant will be ready when it is soft, but not falling apart. Mix in green onion tops and remove from heat. Add soy sauce or chili garlic sauce if desired. Serve as a main dish over pasta or rice (or on it's own as a side dish).
Give this Chinese eggplant recipe a try and let me know what you think, and bon appétit!
Want to try a decadent version of Chinese Eggplant?
Try
Chinese Eggplant w/ General Tso's Sauce.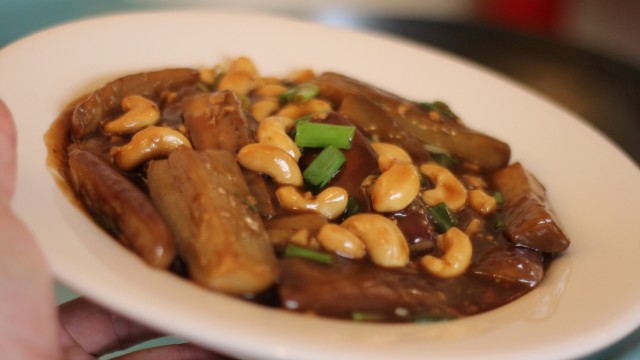 Chinese Eggplant Recipe with Sweet Sauce